[raw]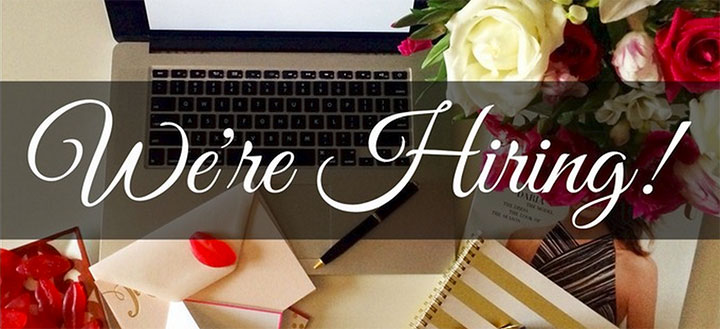 We're Looking For A Content & Course Creator
If you love to research new topics, know how to distill your findings into actionable strategies, and enjoy writing and creating content I'd like to offer you a chance to become my online training course and content creator.
This is a full-time, virtual position, meaning you can work from your home, the coffee shop, or wherever it is you work best.
(This is not for people looking for part-time positions or consulting contracts).
Here's the deal:
I'm Melanie Duncan, and I empower business owners to succeed online. I am the creator of the Power of Pinning program and co-founder of the Online Edge Academy.
This year I am making a big push to increase the amount of content (both free and paid) that I have available online and cover a lot of different topic areas such as business strategy, online marketing, mindset, selling psychology, social media strategies and more.
I'm looking for someone who can help me research, curate information, and structure online training programs for business owners.
The information and strategies will be turned into in-depth online courses, webinar presentations, ebooks, videos, podcasts, and the like.
Now if you've never created online courses (or any online content) before, that's okay. I can teach you how to do that. What I can't teach you is to love research, love reading, and love putting together top-notch content.
Here's Why You'll Love Working With Me…
I'll be straight up: This position has high expectations. But once you get past that, you'll realize something amazing:
You'll be paid to do what you already love… learning new things.
You'll get to work in a fast growing online training company, where there are loads of growth opportunities now (and in the future).
You'll learn the ins and outs of online marketing, product development, and building a brand with a massive audience online.
You'll also see "behind the scenes" of how I grew my information business from scratch to more than 100,000 subscribers in 2 years.
You'll be part of a company that's has one main goal: Helping people get more of what they want out of life. By helping people create successful businesses we help them to create successful lives.
This position is PERFECT for you if:
You love reading, exploring new ideas and strategies, and turning big picture concepts into actionable strategies.
You're GREAT at finding the 20% that yields 80% of results (This means, if you read a book about productivity, you can identify the 2 big ideas that people can implement to get maximum results fast).
You're familiar with product positioning – and how to ensure we create products that stand out (not blend in) in the market place.
You're comfortable reading through blog comments, online surveys, and other forms of data to figure out what it is people want (What they say they want is different then what they really want. It's up to you to find the difference).
You can go through our existing training courses (and content) and make strategic recommendations on how to make it better (You'll have to back up your suggestions with data and possibly comments from existing customers). Also, you'll be able to recommend how to package up existing content into new forms (like ebooks) that can be given away for free.
You're happy working with ambiguity. This is a creative role that's inspired by data and research.
You're a GREAT communicator. There are different methods of communication (like writing, creating presentations, and the like) and you should be comfortable with all of them.
You're good at researching competitors and finding product development opportunities for our business.
This position is NOT for you if:
You are already overwhelmed with your life and do not have the time and focus needed to create quality content.
If the last time you read a non-fiction book about business, marketing, or self growth was a 3 months (or more) ago, then this position is NOT for you. This position requires a lot of reading and research.
If you're looking for a "side job" while you're growing your own business, then this isn't to for you. This is a contract position for 30 days. And if it works out during this 30 day trial period, we'll move you over to full-time employee status.
If you're not willing to sign a non-disclosure agreement, then this is not for you.
If you're looking to be a front-facing content creator, this position is not for you. This is a behind the scenes role.
Here's What You're Required To Do:
Conduct research (both internal and competitive) to come up with new product recommendations – and see these recommendations through from start to finish.
Review current products, videos, and content, and see what else we can cover (or create) to help out millions of entrepreneurs and executives.
Be comfortable knowing that you're working with a lean organization – and may have to work on other projects that may fall outside the scope of training course development.
Come up with a training course idea, flesh out the entire curriculum (knowing what to include… and what NOT to include is vital), and see the course from idea to completion.
Be comfortable turning conversations into content. If you come up with a product idea, you may be required to interview people — people like me, other experts, and the like. It's up to you to turn those conversations into possible video ideas or training material for entrepreneurs and executives.
Help with writing or structuring free content for our blog.
Design slides for webinars or speaking presentations.
Here's What You Need To Do Next…
If you think you're a fit for this position, fill out this short survey.
We'll be reviewing applications over the following weeks, and we'll be sure to get back to you after we review your application.


[/raw]