They say we are the sum of the five people we spend the most time with, and I believe the same can be said for our businesses and the brands we follow and associate with.
Take a moment to look at your social media feeds: Are the brands you follow ones you would want to be like or be associated with? If not, it may be time for pruning.
Don't underestimate the effect of what you are ingesting daily via social media.
While you never want to be a second-rate copy of anyone, you can fill your life (and your Instagram feed) with high-quality examples of brands you hope to emulate. I love to follow brands I admire for inspiration and ideas for new ways to use my own Instagram account for my business.
Here are my top 10 ecommerce Instagram accounts to follow (and how you can steal their genius) — and if you'd like to craft a follow-worthy Insta-brand of your own, download my "little black book" – a definitive list of my Favorite Apps and Tools for Creating Great Photos.

Who They Are: Functional and fashionable glass fruit and tea infuser drink bottles.
Why We Love Them:
DropBottle makes use of a unique hashtag (#dropbottle, natch) to encourage owners to post pics of their own DropBottle and water or juice creations — and then they regram the best for their own feed. A genius strategy for encouraging customer engagement and a strong fan base, and one that you can easily steal.


Who They Are: Luxury, vintage-inspired luggage.
Why We Love Them:
I love how this account really pulls you into the old-school glamour of travel with their lifestyle product photography. These aren't just shots of the suitcases on a boring white background, but rather in the exotic locales and luxurious locations you might carry these incredible suitcases. Because they make a luxury product, they need to create beautiful, aspirational lifestyle photos to showcase them. Their profile reads like a luxe catalog. A wonderful way to display your products is in these sorts of lifestyle shots.


Who They Are: "Personalisable leather accessories and desk accents."
Why We Love Them:
TDE have perfected the art of the laydown photo: items and accessories artfully arranged into a tantalizing tableau. These photos are like mini four-by-four works of art. And the more styled images are interspersed with images of their products in real life — at brunch, at the pastry counter, or in #streetstyle candid snaps.

Who They Are: "Bespoke milliners for fabulous hats."
Why We Love Them:
I'm going through a major hat moment, and I love this boutique millinery brand. Their Instagram profile is a nice blend of lifestyle shots of their products — hats at the beach, hats on a bike, hats at the pool — combined with gorgeous travel photography, which plays into the other interests of their ideal customers. Combining your products with your customers' other hobbies and interests is a great way to keep your Instagram feed engaging.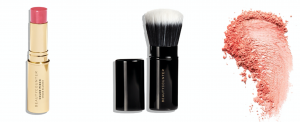 Who They Are: Beauty products with high safety standards.
Why We Love Them:
Apart from nice product photography, I love that Beauty Counter use their social media to promote and engage you in their broader mission of safer cosmetics with fewer chemicals. They post statistics and quote images co-branded with the Stand Up 2 Cancer nonprofit to help promote their social mission. Supporting a cause with your brand that your customers also believe in is a wonderful way to drive engagement and shares.

Who They Are: Organic, plant-based meal and wellness program delivery.
Why We Love Them:
Meal subscriptions are having a moment right now, and it's becoming a crowded market. Sakara distinguishes itself by being the most stylish weekly food subscription I've ever seen! This profile makes healthy eating high art. Remember that no matter what your niche, great design and branding can really help to set you apart.

Who They Are: Preorder designer duds minutes after they clear the runway.
Why We Love Them:
High fashion and cute dogs? What's not to love? But seriously, ModaOperandi do an exquisite job of making their profile beautiful, engaging, and shoppable with the Curalate app. Every picture features an item that can be purchased straight from your phone. Definitely a #win for a product-based business!

Who They Are: Event florists in NYC
Why We Love Them:
First of all, gorgeous flowers make for gorgeous Instagram photos. And Instagram loves flowers! (just check the #flowersofinstagram hashtag.) This brand has turned their work into something of a cult following. I'm guessing that a large percentage of their 55.5k followers are not event planners in NYC — yet they follow the brand for the gorgeous images. I know I do.

Who They Are: Stationary and office accessories company.
Why We Love Them:
With their collaboration with Target, this brand hit the stratosphere — but they're staying true to their roots. I love the crisp product photography on bright white backgrounds interspersed with some lifestyle and behind-the-scenes shots. This brand keeps everything stylish and on message, and every photo fits visually with all the others. A perfect example of a consistent brand look.

Who They Are: Founder, designer, and CEO of fashion line.
Why We Love Them:
This is a great example of how to do a personal brand by mixing in your products and your personality. I love how she mixes snaps of her life with fantastic product photography in a way that blends seamlessly. While my style is very different from Tory's, I admire and aim to emulate the way her brand and lifestyle are reflections of one another.

Did you find any inspiration among these gorgeous snaps? If you're ready to craft your own follow-friendly Instagram profile, download this free list of my Favorite Apps and Tools for Creating Great Photos. In it, you'll find my best tips to make your own profile dream-worthy and business savvy.