A few years ago my friend, Derek Halpern, shared with me an invaluable strategy that I'd like to pass on to you today:
The Story Stash
Have you seen Derek's video about getting a $310 haircut? In it, he tells a story about deciding to visit a barber who charges $310 for a haircut, and the experience he had. It's an interesting story by itself — and I'm sure many people got hooked because they were curious why he would spend that much on a haircut — but Derek takes that story, that experience, and turns it into a lesson on business.
And I would bet he was able to make that video because he put that experience with the haircut into his story stash.
When it comes to our businesses, I find that many people go through periods of feast and famine when it comes to creativity and ideas. Sometimes we are overflowing with great ideas, the words seem to flow from our fingertips, we're tapped into something beyond ourselves for inspiration and creativity.
And sometimes the well is dry.
It happens to all of us. But what I have personally discovered is that the more I am mindful of the the things that happen to me and how they relate to my message, the more likely I am to have a reserve of good stories and inspiration when I need them.
That's why I started cultivating the habit of pausing just for a moment to record experiences and memories and add them to my story stash. It's become an integral part of my copywriting, and a regular occurrence in my everyday life.
The benefit of this is that when you sit down to write later — whether it's website copy, a product description, or even just a tweet — you don't have to rely on inspiration to strike. You've got a record of the dozens of times it struck you already.
These little flashes of inspiration, when you write them down and collect them in one place, make your copywriting that much easier and more fluid.
And the better your ideas, the better your copy. So why wouldn't you want to collect them all?
Because this is such an incredibly helpful tool for me that I use whenever I sit down to write or create in my business, I've put together a worksheet to help you Create Your Own Story Stash, as well as some of my best tips below.
Why start a story stash?
Have you ever sat down to work on something — a blog post, an email, a sales page — and the words just would not come? You stare at the blank page, watching that cursor blinking at you mercilessly, and you stare into the terrifying abyss of having nothing to say…
One thing about writers: they're always writing. On the subway, in the middle of a conversation, at the dinner table. I knew a girl in college who was a creative writing major, and she carried a tiny notebook and pen in her pocket at all times.
Even though you may not be crafting the great American novel, it's a wonderful habit to steal from those professional writers. They cannot help but write, but you can teach yourself to record your thoughts and ideas when they occur to you.
What kinds of ideas go into my story stash? Mostly they are personal events that I think I could use to make a point or give someone inspiration. Many times they come from things I've experienced in my past — like the dark days when our first business wasn't working well, or from my first job at a fragrance counter. Other times, they're experiences I have in the present that spark an idea for me — like exceptional customer service at a particular hotel, or an interaction with someone who is clearly passionate about his work.
But the point is that once I have this story stash, I no longer have to fear the blank page; if I find myself uncertain of where to start, I can simply turn to my story stash and find dozens of places to start, dozens of threads I can weave into a complete idea.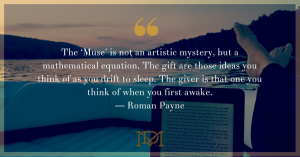 How to keep a story stash

If you struggle with writer's block for your business, creating a story stash is the best thing you can do proactively to help you prevent and treat it when it happens.
Starting and keeping a story stash is as simple as becoming mindful enough of your thoughts to remember to stop and write down the ideas that come to you.
I often think of things when I'm having a conversation with friends and I realize that a story I'm telling was a pivotal moment when I learned something about myself or my business. Those are the sorts of ideas and memories I've trained myself to record and add to my stash.
If you imagine your story stash like the precious commodity it is, you're going to want a beautiful receptacle for it. Beautiful, in this instance, also means it must be an efficient, elegant system through which you can record and later access your idea gems when it comes time to write. Here are some suggestions:
Evernote — Evernote is my favorite all-in-one note taking solution, because it syncs across all your devices and it handles all kinds of notes. I use Evernote for both my storybank and to jot down ideas. You can type, upload photos, "clip" websites and articles, and even import hand-written notes with the right extensions. You can also tag and organize everything to make it easy to find. Ideabook is another interesting app that not only lets you collect ideas, but also rate them.
Simple Text — Of course, you might just want to start a document in Word or a Google Doc that you can add ideas to on the fly. One of my copywriters prefers a spreadsheet so she can categorize, sort, and rearrange her ideas easily.
Analog Idea Capture — If you're more of a pen-and-paper lady, there are several idea capture systems you can try with analog tools, including the Hipster PDA, Bullet Journal, and plain old awesome Post-It Notes. Author James Altucher likes a waiter's pad. Whatever works!
Jott — If you like to talk out your ideas, you could leave yourself a voice message, or you can use a service like Jott. Just call the number and leave a short message that you can access later. You can also get a Google Voice number, call it and leave a message, and Google Voice will translate it to text automatically. You may also find that your phone's virtual assistant (Siri or Cortana) can take down reminders for you.
Ultimately, the best tool is the one you will use, so don't get too caught up in selecting the tool; the key is to pick something and actually use it!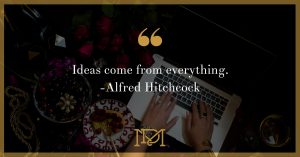 Put your ideas to use

Not every idea or memory or story is going to have the same weight or merit as every other idea. Some will be big enough to turn into an entire book, a product, a course, or a presentation. Some will be fit for a blog post, a video, or a podcast. And still others will be perfect for a Facebook update, an Instagram, or a Tweet.
And some will never again see the light of day. And that's OK.
I've used my story stash in almost every aspect of my business. You'll see my stories pop up in blog posts, on my about page, in the guides inside Business Class, in Facebook and Instagram posts, in emails and so on.
And I rarely know exactly how I will use a story when I first write it down; but when its time comes, I know it will be right there waiting for me.
These sorts of stories can be used many places, but they're especially useful for:
Blog posts — you may notice, I often start my blog posts with a personal anecdote that ties to the overall theme. Story stash!
Sales pages — especially when you have a good before and after or transformation story.
Welcome emails — when someone first signs up for your list, they want to get to know the real you, and personal stories can go a long way.
Weekly emails — it's great to include moments of inspiration or stories from your life in your newsletter or weekly emails to your list.
About page — the whole point of your about page is to let people get to know a bit about you, and personal stories are excellent to help introduce you to your audience.
To get your story stash started strong, I've put together a Create Your Own Story Stash worksheet with creative prompts to help get you thinking. Click here to download the worksheet, choose the tool you will use to record your story stash, and start dreaming!
The next time you sit down to write, you'll be so glad you did.