What is Instagram best for if not gazing at gorgeous images and getting inspired? But when you're looking at it with an eye to marketing, you start to see who is going outside the mainstream and doing exciting and different things with their feeds and stories.
As I talk about inside our Business Class Destination Guide to Ignite Your Brand with Instagram, the name of the game is all about engagement, and these brands are taking their engagement to a new level with gorgeous photography, clever user-generated content, and smart planning.
Gaze on these inspiring feeds but then take action! Click here to download my 2-Week Instagram Challenge that will help you grow your Instagram audience, get in the habit of creating consistent and intentional content, and get you tracking your results!
Selfish Mother
uses their feed like a magazine
Love this idea for using your feed in a unique way: SelfishMother produces what they call an Insta-Zine. Every issue has a cover and the next 8 images on the grid to complete one full "issue". I love the idea of using your grid to create entire collections of content meant to be consumed together or at once.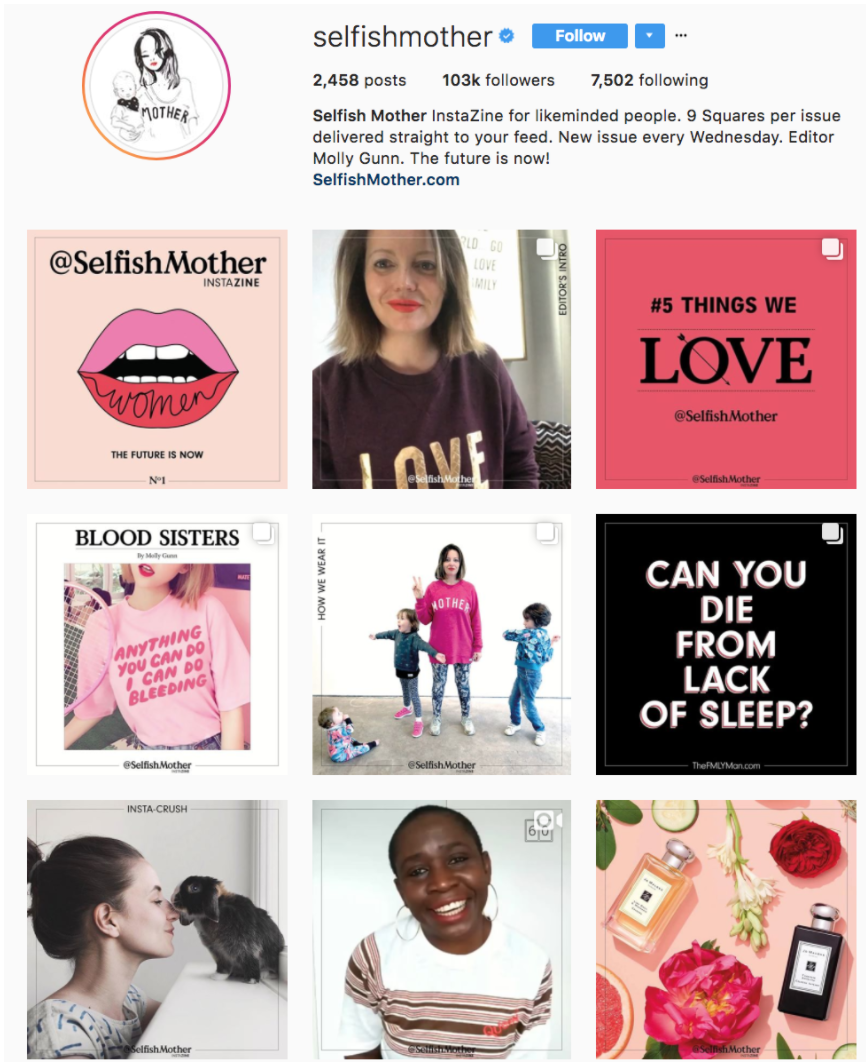 Moon & Lola
uses stories to build anticipation
Jewelry brand Moon & Lola uses Instagram stories to great effect by taking advantage of the form's serial nature. They'll often put several images in a row to talk about or promote a single product.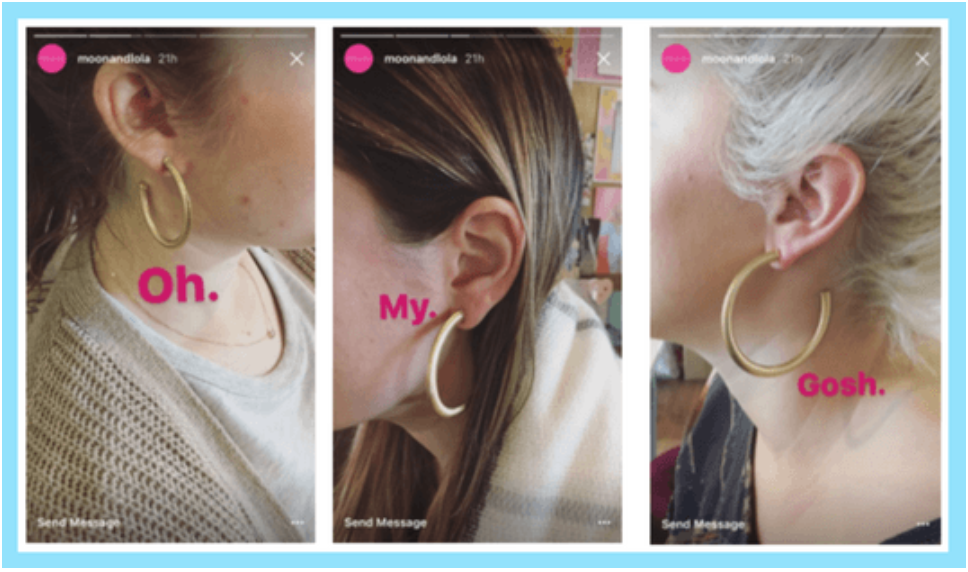 Then, they use a call-to-action or even a promo code at the end of the story. This makes followers who watch the stories feel like super VIPs, getting a "secret" code that not everyone else is aware of.
Your Instagram feed doesn't have to be directly about your products. Tito's Vodka is a big supporter of ending homelessness for pets, so it created a side account called @VodkaForDogs that uses entirely user-generated content of — you guessed it — adopted dogs and vodka. Seem weird? The account has 18,000 followers and, judging by the photos, the brand has started producing swag for dogs. Plus, who doesn't want more brand ambassadors when they're this cute?
Bustle
brings in guest hosts
Magazine Bustle regularly brings in their senior social editor to do "DIY With Sierra" segments on their stories. Creating a regular "event" with Instagram Stories is a great way to keep users engaged and coming back for more. Whether you bring in someone from outside your brand to "take over" your stories, or highlight a team member who doesn't normally post, it's a great way to create excitement.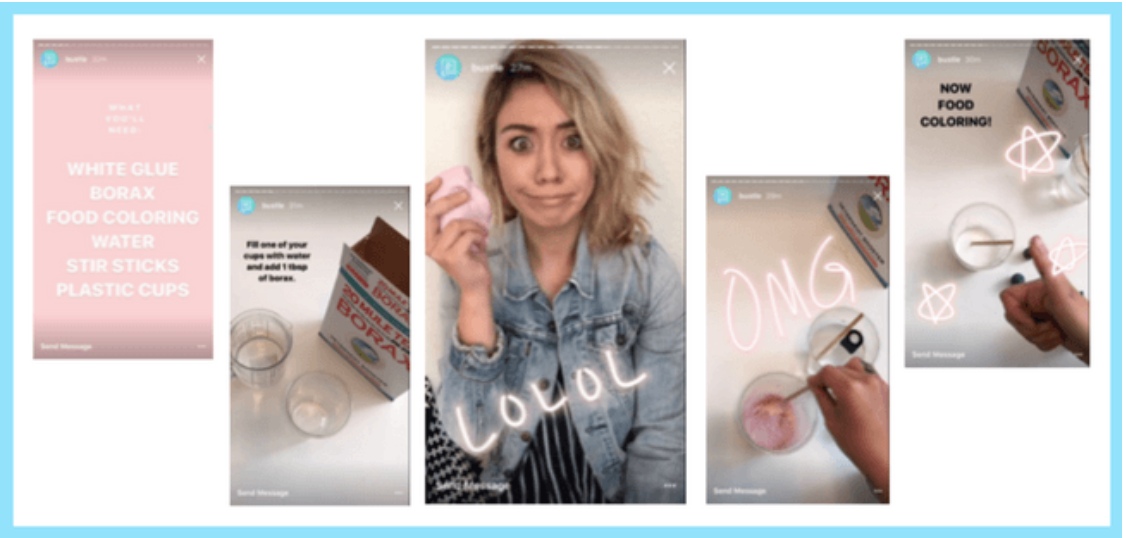 Reynolds
goes way beyond wrap
Wait, Reynolds Wrap? The aluminum foil people? Yes! Who knew these kitchen staples could be so beautiful and engaging. Each post is a cute recipe or idea on its own, but scroll the feed, and their "endless table" appears, with every photo a part of the bigger collage. Very clever. (It looks like this hasn't been updated in a while — but it's still a very clever concept that was well executed.)
Halley Gray of Evolve Succeed has used Instagram as her main content channel for selling — and filling — her online program for freelancers, Be Booked Out. She uses Instagram posts, videos and stories to do everything you might "normally" do on Facebook or through email for a launch. She shares testimonials, countdown clocks, everything — all via Instagram.
TheInstagramExpert
uses highlights to create mini "pages" for her biz
Instagram expert Sue B. Zimmerman uses the ability to save stories to create mini "pages" within her profile — linking to her Q&As, tips, her blog, and her free offer. She even created cute custom icons in her brand colors to make the highlights look cohesive and stand out from the rest of her feed.
By now, I bet you have some ideas of how to use your own Instagram feed a little differently and stand out from the crowd. Whether you're a seasoned grammer or just getting started for your biz, I challenge you to get going with my 2-Week Instagram Challenge today. I created it specifically as a companion to my new Instagram Destination Guide inside Business Class, and it's the first step you should take toward creating your own innovative content for Instagram.