If you read last week's post, you're familiar with the power of the "Pumpkin Spice Latte".
Every fall, Starbucks announces the season with this sugary concoction. And Starbucks fans around the world excitedly anticipate it. In fact, by the time the PSL is on the market each autumn, Starbucks fans have been anticipating it for months.
Starbucks sells about 20 million PSLs every year, generating at least $80 million in revenue.
Love them or hate them, Starbucks sure knows how to make their customers drool.
You, dear business owner, can learn a thing or two from Starbucks about creating anticipation for your products and programs.
1.Use Focused Teasers and NEW News
Starbucks uses social media to get the word out about all of their products. But they are particularly clever with the PSL.
They've actually turned the PSL into its own character with its own Twitter feed, Instagram account and Tumblr page. The PSL is a brand unto itself.
Starbucks starts building buzz long before the beginning of fall with tweets, posts and Instagram snapshots (like this one from August 6, 2015).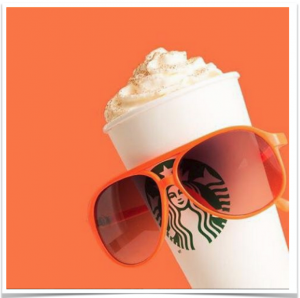 But every year, there's something different about the PSL that gives customers a reason, besides loyalty, to visit the barista. One year, Starbucks launched their famous fall beverage early. Last year Starbucks started using real pumpkin in the recipe, and this year, you can get one made with almond milk instead of dairy.
So Starbucks isn't launching the same old thing the same old way year after year. Each year there's a new twist that rejuvenates old fans and piques the interest of new fans.
Each year as PSL season approaches, a mini celebration ensues. Consider how you can make your customers drool in advance of your launch, and make your launch the party of the season!
2. Create Secrets To Make Friends (and Fans)
Another thing Starbucks did differently this year was give out a secret password that enabled fans to get their hands on the PSL before the official launch.
All customers had to do was enter the password "pumpkin" and their phone number on the dedicated Tumblr page, and they were texted a pass to show the barista.
Though Starbucks used Tumblr to execute this ingenious plan, they brought their other social media platforms strategically into the mix as well. They teased a "big announcement" on Twitter for days before the Tumblr campaign went live. Then they gave away the password on Twitter on the day, directing people back to Tumblr to use it.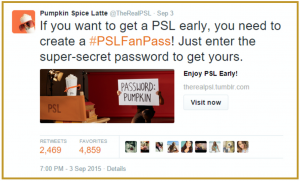 So how can you use this in your launch?
First, choose a social media platform to focus on. For example, if Facebook is the best way to reach your target audience, you would create your big campaign on Facebook. Then, if you use other social media platforms to market your products, you would use them to drive traffic to the main campaign on Facebook.
3. Keep Them on the Hook with a Hashtag
The Pumpkin Spice Latte not only has a brand of its own, it also has its own hashtag (#PSL) on Twitter, Facebook and Instagram. This, my friends, is brilliant. I hope you're taking notes.
Creating a dedicated hashtag not only allows Starbucks to communicate their product news in a more targeted way, but it also allows fans to share their excitement with one another. All they need to do is use that hashtag in their post and they can share their opinions, photos and enthusiasm with a worldwide audience.
Even the news outlets are getting in on the #PSL fun.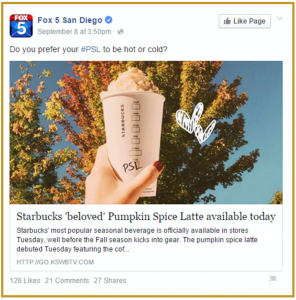 Consider creating a dedicated hashtag for your own product. Not only will this enable you to keep tabs on the conversation, but it will create an eager community for your customers to participate in.
These are three great ways to build anticipation around your products.
Are you interested in creating a #PSL-style celebrity campaign for one of your products? I've created a guide for you to make it all a bit simpler. Click here to download your PSL Promotion Strategy Guide: How to Turn Your Product or Program Into A Celebrity.